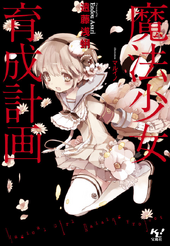 Welcome, pon! My name is Fav, pon!
I am called a cyber fairy. My masters, from the land of magic, came up with a brilliant plan to help save the world by using a famous social game, pon! We will use the social game to find "magical girls", those given special feminine bodies to help save the world, pon!
We allow boys, girls, and even animals so long as they have the aptitude to believe in magic, pon! Of course, they will be turned into girls whenever they want to use magical powers, pon!
What magical powers, you ask, pon? Well, I just transformed a girl named Kyouki into the magical girl "Snow White", who can not only run fast, jump high and be super strong, but can also "hear the voices of those in distress."
Of course, the magical powers all depend on the person, pon. Snow White had always wanted to be a magical girl, even though she had previously thought that they were only in anime and manga. When she became a magical girl, she wanted to save people, hence her power, pon! But there's girls who believe that ninjas and cowgirls are the best magical girls, pon!
But unfortunately, the magic in the Land of Magic is running out because there are too many magical girls, pon. So, there will a test; those who cannot collect enough magical candies every week will be eliminated, pon!
Oh? You want to know what I mean by eliminated, pon? It's like it sounds! The losing girl will lose her magical girl powers, which essentially means taking a part of herself away from her, which means that she will die, pon!
Of course, if one girl dies before the week is up, no one will be eliminated, pon!
Oh, and I heard that there will a light novel of the events to come is coming out on June 20, so I know that these girls will provide a great psychological and gruesome tragedy that readers will enjoy, pon!!!!
Er, I mean, it will be a light novel (novella with a few manga-like pages) of sixteen girls who discover the true meaning of magical girls and friendship through enduring tests and experiencing each one of them losing their magical girl powers.
Bye for now, pon!
-Megan V, 11th Grade