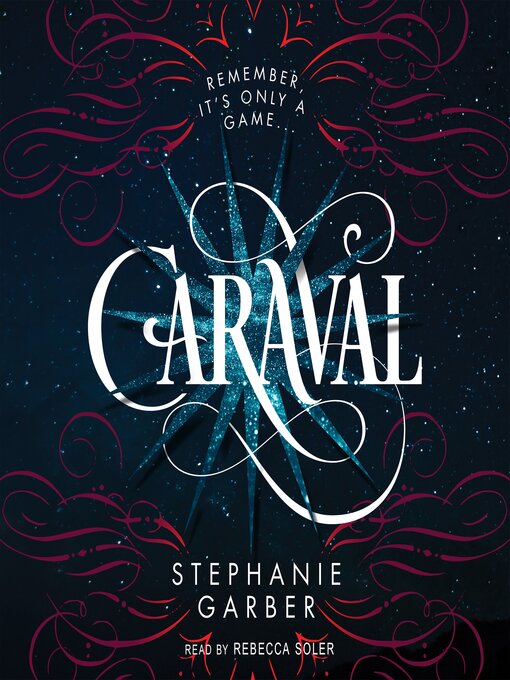 This book is for lovers of magic, heartbreak, and suspense. This book is incredibly twisty and will sweep you into an enchanting dream. When I first heard of this book, I was incredibly intrigued by the cover. Besides its obvious beauty, I was drawn to the slogan above the title. It says "Remember it's only a game" and already sets the mood/tone. Stephanie Garber, who is an author from northern California, manages to create a one of a kind fantasy world. Where you will question the characters' actions and what's real vs fake.
You open the book to the line "It took seven years to get the letter right". Then learn that our main character, Scarlett Dragna, has been writing to a mysterious man named Legend. Legend is the master of the magical, Caraval, which is a once-a-year performance on a small faraway island. Every year Scarlett wrote a letter asking him to come to her island. It wasn't until her last letter, where she announced her new arranged marriage, that he finally responded. Legend congratulated her engagement and sent two tickets for Caraval.
At home Scarlett and her sister, Tella Dragna, live a horrible life on the Island. Although they are well off, their father is a cruel and abusive man, and their mother left them at a young age. Scarlett is quiet and soft. While Tella is bold and rebellious. Scarlett's arranged marriage seems to be the only escape until they meet a mysterious and handsome sailor. Tella plans to run away to Caraval with the stranger and invites Scarlett, who refuses claiming that her fiance will save her. Tella and the sailor, Julian, then arrange Scarlett's kidnapping by bringing her to Caraval. But by the time Julian and Scarlett arrive, Tella disappears and it's revealed that this year's challenge is to find Tella. The winner gets a wish granted, by Master Legend himself.
Scarlett is now forced to make the decision to either play the game or return home. But before she goes, the performers remind her not to believe anything she sees or hears. Even when she hears screams and watches people die, she's told to not fall too deep or else she may never leave. She may even go mad because of this strange magic. Now Scarlett is swept into Caraval, for five nights of magic, heartbreak, and beauty. Where reality turns into fantasy, and death is almost a game. This book was an absolute delight, and I devoured it within a day or so. Its characters are whimsical and its world-building is similar to the movie, The Greatest Showman. There are also so many page-turning plot twists, that had me constantly on edge. Stephanie Garber delivered a stellar book for magic lovers of all ages. In fact, it's so enchanting that you might never want to leave.
-Ashley Y.
Caraval by Stephanie Garber is available for checkout from the Mission Viejo Library. It can also be downloaded for free from Overdrive.