The Life Aquatic with Steve Zissou is one of my favorite Wes Anderson films. Its plot—combined with its direction, soundtrack, and cast—makes the film stand out against most of the films I've watched before. It centers around the themes of familial love as well as sadness, letting go of your past, and looking to the future.
The story follows Steve Zissou, an oceanographer and filmmaker, on a mission to kill a shark—specifically a "jaguar" shark (which he coined himself)—that ate his best friend and partner, Esteban. He's pretty washed up, with his funds for his films low—due to how badly his films were doing. He's out to kill this shark solely for revenge, and he says he'll do whatever it takes to get justice for his friend. Zissou is accompanied by his friends—the crew of his ship, the Belafonte. There's one special member, though—and it's what sets the film into motion.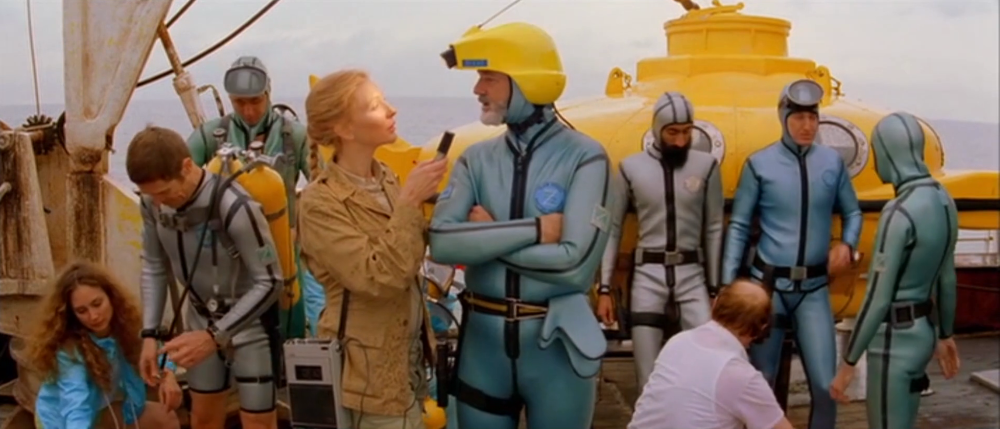 That special member is Ned Plimpton, a polite, young man who came to Zissou during the premiere of his latest film. Ned claims to be Zissou's son, the child of Catherine Plimpton, a woman Zissou remembered and supposedly had an affair with. At first, Zissou doubts this—because both of them aren't really sure. It's only when Ned is invited to stay at Zissou's island and headquarters, and Zissou wakes him up in the middle of the night to film some "jellyfish" on the shore. Standing there, with his boom microphone—Ned adlibs along with Zissou. Though it's awkward, Zissou figures out that a narrative between him and Ned could make his next film—and mission—successful. He hires Ned right there, and Ned joins the crew.
I won't be discussing the film in its entirety, but what I found very compelling about the film was how it handled the themes of familial love—specifically paternal love.
Ned and Steve are awkward together. The two of them tiptoe around the fact that Steve might or might not be his real father. They avoid even breaching the topic. But, when they do, Steve confesses that he never wanted to be a father, right in front of Ned. After that, they don't talk about their relationship with one another.
During this, Steve is also still weighed down by the grief of losing his best friend. He's mourning him, and his anger is what drives him throughout the entire film. Most of the crew is telling him not to do it, not to kill the shark—or that the shark didn't even exist. Even so, Steve still pushes on—through bad weather, a pirate attack, and even a kidnapping of one of his crew members. They go through a lot, just trying to find this shark.
The most devastating part of the film happens next. The crew finally gets the shark on their radar, and they realize they're only a few miles away. A helicopter ride. So, Steve and Ned—a pilot—climb into the Belafonte's worn out helicopter and fly away. On the ride, Steve and Ned talk about a letter Ned sent to Steve when he was younger. He admired Steve, and admitted that he wanted to be an oceanographer when he grew up. Turns out, Steve had kept the letter all these years, and he pulls it out to show it to Ned. This connection shows that the two of them, especially Steve, care for each other—and that Steve was ready to become a father to Ned.
But, due to the helicopter being worn down and broken—they end up crashing into the water, just where the shark was. And although Steve is fine, Ned… wasn't. The most interesting thing about this scene is that it's framed to look like a shark attack—with Ned hanging onto a floating piece of debris, and red filling the water around them. Almost exactly the way Steve lost Esteban. (It's later revealed that Steve was infertile. He couldn't have children.)
Eventually, though, Steve and the crew are able to get into a submarine and see the shark up close. It's my favorite, and most beautiful part of the film. The shark is swimming around them, glittering and beautiful, capturing the eyes of all the crew members—shocked that the shark was actually real. In the center of the frame is Steve, quietly reflecting on the events that had happened leading up to this moment—the moment where he's "supposed" to kill the shark.
Instead, when asked if he still wants to kill the shark—Steve shakes his head, claiming they ran out of dynamite anyway. He tears up, and he asks, "I wonder if he still remembers me." The whole crew then puts their arms on Steve, holding him as he cries, the shark still circling around.
I believe that the shark represents sadness. Something that is looming, circling, engulfing us. And when it attacks, there's no stopping it. Steve has been going through this ever since Esteban died. His sadness and his grief engulfs him, consumes him, to the point where it causes the death of someone else close to him. It's destructive, not only to others, but to himself. In an effort to find peace, Steve sets out to kill the shark—or, his sadness. He goes through so much, just to get rid of it.
In the end, when faced with it—when faced with his grief and he's given the chance to finally kill it, he turns it down. He looks right into its eyes and says, "I wonder if he remembers me." This is when Steve learns that sadness cannot be killed. It cannot be obliterated. Sadness can only be lived with, and that's something we need to learn. It's what comes with life. But what we can do is have others who support us and love us anyway. This is represented by his crew—his family—putting his arms around him and holding him as he cries. Even though his grief was engulfing, drowning him, the people who loved him and who he loved in return—were still there every step of the way.
Their film ends up getting produced, and receives lots of support. They've dedicated it to Ned.
The ending credits of the film leave a bittersweet feeling in your stomach. As the crew is walking down the pier, Buckaroo Banzai credits style, in the background you can see the Belafonte. It's ready for their new adventure. And there, at the very top—with his signature pilot's uniform and spyglass, stands Ned—guiding Steve and his crew, onward towards the future.
– Claire C.
The Life Aquatic with Steve Zissou is available for checkout as a DVD or Blu-Ray at the Mission Viejo Library.