I recently came across the poem "Stopping by the Woods on a Snowy Evening" by Robert Frost, and really enjoyed it, so I thought I would share it here!
Whose woods these are I think I know.
His house is in the village though;
He will not see me stopping here
To watch his woods fill up with snow.
My little horse must think it queer
To stop without a farmhouse near
Between the woods and frozen lake
The darkest evening of the year.
He gives his harness bells a shake
To ask if there is some mistake.
The only other sound's the sweep
Of easy wind and downy flake.
The woods are lovely, dark and deep,
But I have promises to keep,
And miles to go before I sleep,
And miles to go before I sleep.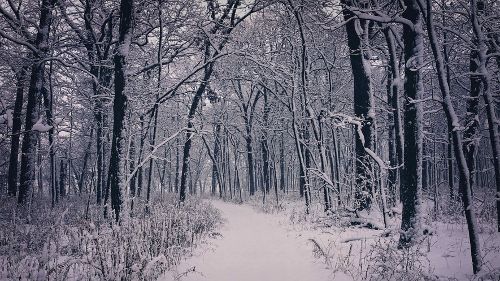 On the surface, this seems like a very simple poem, speaking of a traveler and his horse stopping on a snowy forest, on an unknown plot of land. The woods here represent wildness, and nature in its purest form- they are past the outskirts of the village, past the bounds of human settlement. Still, the speaker acknowledges his humanness and worldly responsibilities, sadly admitting that he must keep them. However, this poem has a darker undertone- and there are other reasons that the speaker cannot stay in the woods. They are to be admired from afar- if the traveler becomes trapped in the snow and loses his way, he may well freeze and die. The horse, representing human society, seems confused at his owner's admiration of the woods- representing society's inability to appreciate nature in its fullest, rawest capacity.
-Vaidehi B.