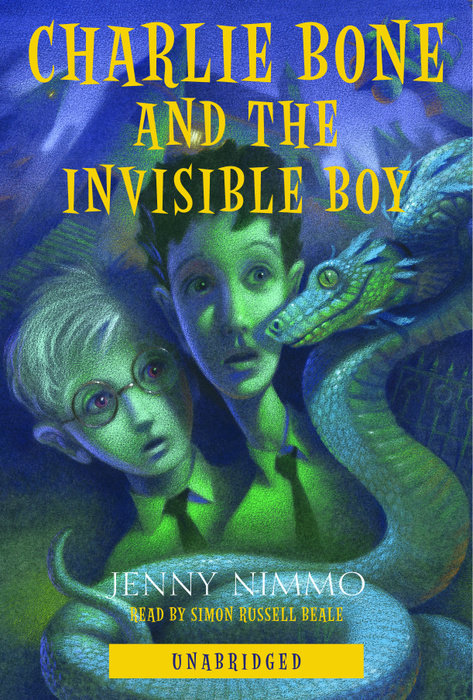 Charlie Bone and the Invisible Boy is the third book in the Children of the Red King series by Jenny Nimmo. This is my favorite book in the series so far. These books are about a boy named Charlie Bone, who has a special magical power. Charlie attends a school called Bloor's Academy, where other students possess magical powers as well. In this book, a new semester of school is beginning. Charlie and his friends discover that a boy named Ollie Sparks has been secretly imprisoned at the school for a while. Ollie is an "invisible boy," because he was the victim of a magical snake that can turn its victims invisible. Charlie and his friends try to save Ollie from his sad and lonely imprisonment.
In addition to Charlie Bone, two of my favorite characters in this book are Lysander Sage and Tancred Torsson. Lysander is possibly the most powerful character in the book, but he is also very friendly. Tancred also possesses very powerful abilities, and he is very helpful to Charlie throughout the book. Charlie has other friends with special powers, and it is interesting to read about their different magical abilities.
My favorite part of the story is when Charlie and his friends help Charlie's uncle after he was severely injured. Charlie's uncle, named Paton Yewbeam, had been away on a long and perilous journey. He returns with many serious burns, and Charlie learns that he must find a special plant to cure his uncle. The only place to find the plant is in the garden of one of Charlie's evil aunts, so Charlie and his friends must risk their own lives to save Uncle Paton.
I enjoyed this book because Charlie and his friends take many risks to help others.  The story is very exciting, and Charlie's life is in danger many times.  I like reading about the friendship between Charlie and his classmates, as they have many adventures together trying to save their friends and family.  I would recommend this book and the other books in the series to everyone.
-Simon H.
Charlie Bone and the Invisible Boy by Jenny Nimmo is available for checkout from the Mission Viejo Library. It can also be downloaded for free from Overdrive.