Now that it is the cough and cold season, myths and misconceptions are constantly being spread about catching or dealing with a cold. Here, I am going to clear up some of these statements and help you differentiate between myths and facts of colds.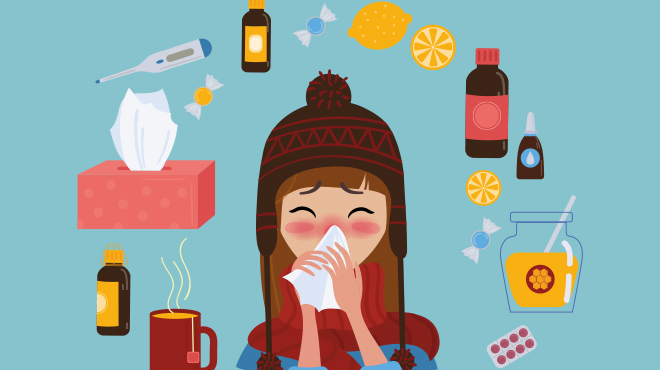 "Going out in the cold or with wet hair will get you sick!" is a statement almost every person has heard over and again. But, in reality this overused statement is false. You are not more likely to get sick if you go out in the cold versus the heat. This is a common misconception since cold season is usually when it is colder. This is because when it is colder, people tend to meet others indoors, where colds can spread more easily. Or they are closer to other people due to the cold, allowing viruses to spread through breathing and coughing quickly.
Another common statement heard around this time is "getting the flu vaccine will make you catch the flu!". Again, this is another common misconception. This is a false fact that has been spread. It is not possible to get the flu directly from receiving the vaccine. Most people feel slight cold symptoms and soreness within a few days following the date of receiving the vaccine. But, this reaction is nowhere in comparison to the severity of the vaccine.
"Antibiotics will cure colds" is another "solution" many people hear in response to getting colds. But, this is not true. Antibiotics only fight bacteria, not the viruses that cause colds. Although in some cases colds lead to bacterial infections where antibiotics are useful, for general colds they are proven ineffective. On the other hand if you have a bacterial infection, antibiotics are very effective and the effects are significant.
Throughout time, ideas get spread although not always true. That is why it is always important to consult a doctor or trusted sources before acting rashly when you come down with a cold. Most importantly, trust tested and verified ways of treating specific colds when doing self-treatment.
-Lilly G.