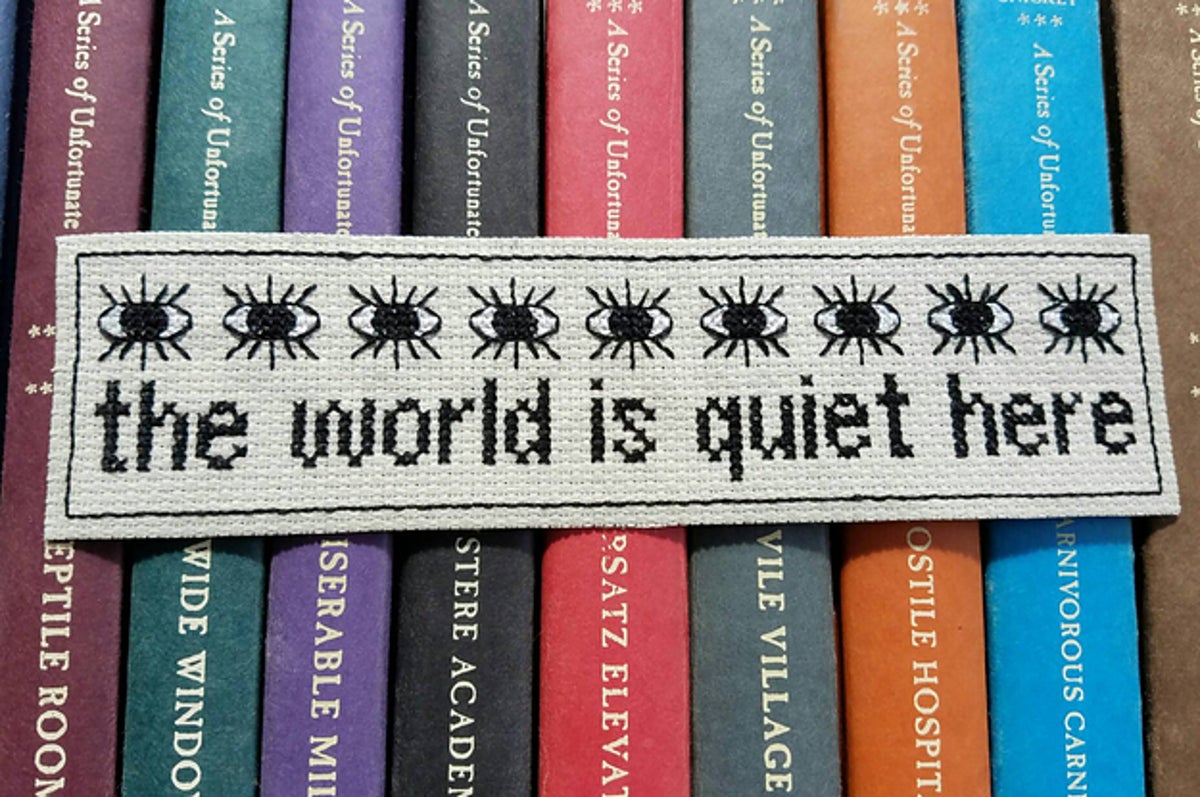 There are 13 books in Lemony Snicket's A Series of Unfortunate Events. Each one looks at a different part of the 3 Baudelaire siblings' lives and misfortunes as they grow and learn more about the strangeness of the world. It's a story about finding one's moral compass, the failings of guardians, the wickedness that plagues society, and the importance of associating with good people. 
In the first few books we learn about the tragedy that took the Baudelaires' parents, and about their nemesis/first guardian, Count Olaf, a wicked man who cares about nothing but getting his hands on their fortune. We are also introduced to the siblings: Violet, a genius inventor; Klaus, a genius researcher; and Sunny, a baby with sharp teeth who eventually becomes a genius chef. As the siblings grow in their strengths and move from failed guardian to failed guardian, they begin to learn more about a secret organization known as V.F.D. As the books progress and the children grow past the need for awful guardians, they begin to dive into this organization and the story becomes filled with more secrets and mysteries. It is at this point that I think the series really gets going and becomes phenomenal. The last 6 books in the series are particularly amazing, gripping stories that leave you asking more questions than you get answered.  I often dislike endings, whether it's in movies or in books, even music. For this reason, it's high praise for me to say that A Series of Unfortunate Events might have my favorite ending of any book series. It's a perfect culmination of character growth, surprises, and just enough answers to leave you satisfied. With the Baudelaires finally finding somewhere that seems safe, they learn that safety comes with a steep price. 
While the stories are certainly amazing, I can't overstate how important Lemony Snicket's unique style of writing and narration is to the story. His tone alone is fascinating, with the stories being a sort of optimistic melancholy. His vocabulary is interesting, with him often explaining what words mean or having characters explain it. The way he inserts the narrator's story into the series without ever explaining who he really is is simply remarkable. Lastly, he will repeat words and phrases to the point of boring you, just for you to realize that in the middle of his repetition he has left a secret message. It's just wonderful how he manages to incorporate so many things into his storytelling and narration, that you can't help but smile while you read it. Whether you are a child, a teenager, or an adult I'd highly recommend reading the books, or at least watching the amazing Netflix adaptation!
-Parker K.
A Series of Unfortunate Events by Lemony Snicket is available for checkout from the Mission Viejo Library. It is also available to download for free from Libby.