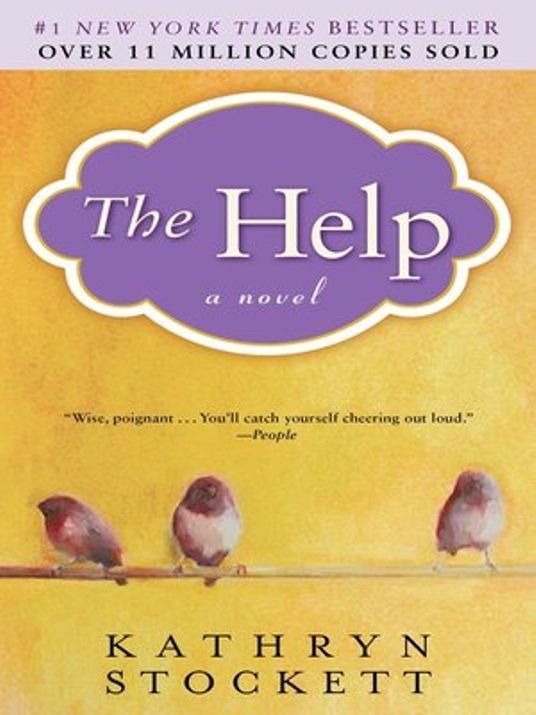 The Help by Katheryn Stockett was the first book I had to read when I entered my freshman year. They gave it out as a summer reading assignment and now, we've been doing essays and connecting it to other stories we're reading. 
The Help is a historical fiction novel, and is set in the 1960's in Mississippi. Skeeter, a young woman straight out of college who aspires to be a writer, begins to interview and befriend the black women of her town in order to write about their lives in hopes to help them and show what they go through and the racism they face. Aibileen and Minny, two black women who work as the help, or housekeepers, in the town are the first two that Skeeter interviews and befriends. Despite their differences in society, they each work together to get other black women to help and create their book. As the story goes on, these three grow and learn more about themselves and others around them.
The book is told through three different perspectives. First is Aibileen, a black woman that is the help, or the housekeeper, of one of Skeeter's friends. She is a hard worker and has been working for a long time as a help. She is kind and is the first person to help Skeeter write her book. Minny is another black woman who is Aibileen's friend and the help of another one of Skeeter's friends. Minny is stubborn and hot headed. She takes much more convincing than Aibileen to help with Skeeter's book due to her distrust in white people, but she eventually comes around as the story goes on. Skeeter on the other hand, is a white woman, young and aspires to become a writer, despite what other people's views of her are.
This book was a fun read, despite having to write and take assessments on it. To be honest, I had fun writing essays on this book because I understood the story and the characters even more. Skeeter was one of my favorite characters. She broke the society norms, had her own dreams and goals, and really grew throughout the story. Two other characters I enjoyed reading were Celia and Johnny. Celia was Minny's boss and Johnny was Celia's husband. They were immediately different from all the other characters. Despite the time period and the fact they were white, they didn't mistreat Minny and really cared for her. Like Skeeter, they were kind and weren't racist like many of the other white people in their town. Treating others with human decency is a pretty low bar, but considering the time period, this is a pretty important and unusual thing to see. I'm glad Stockett included these characters, otherwise, it would have been very difficult to read this book.
The plot overall was really good; each character had their own story and path with their own aspirations, needs, and problems. Aibileen has lost her own son and wants to teach young kids the right things while taking care of them, but also wants to become free to live her own life. Minny wants to care for her own children; wants them to have a good life. Skeeter wants to pursue her dreams although society is against her. Each character has their own set of issues they must overcome and their own story to complete while also creating their own story together, both within the story and plot wise.
The Help is a great book and would be a book I'd recommend if you were looking for one in this genre. Historical fiction is definitely one of my favorite genres but I'm sure that even if it wasn't one of your favorites, it could still be a fun read.
-Nicole R.
The Help by Kathryn Stockett is available to check out from the Mission Viejo Library. It is also available to download for free from Libby.