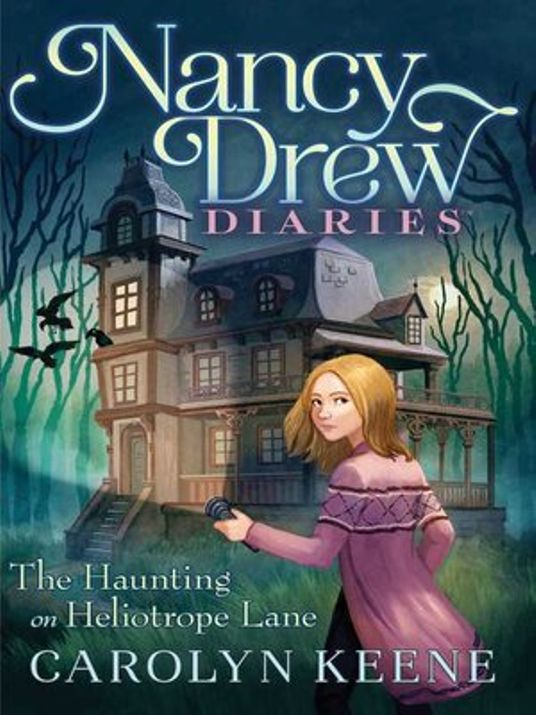 Ahh, the good old days. Playing catch on the street with your buddies. A basketball hoop in your driveway. Block parties. The old decrepit house at the end of the street where the old lady who lived there may or may not have been murdered.
Those rosy memories.
The Haunting on Heliotrope Lane is a mystery novel that was written by Carolyn Keene in 2018 as the 16th installment of the Nancy Drew Diaries series. The story follows Nancy, along with her best friends George and Bess, as they try to solve the mystery of what's really going on in that old house at the end of Heliotrope Lane.
This book feels quite different from prior ones in the series, taking on a much eerier and more suspenseful tone than previously seen. Especially if you're like me, and had the amazing idea to listen to it on CD with sound effects and voice acting while trying to fall asleep in a cold, dark room. You never truly know what could be lurking in the shadows.
Anyways, this is probably my favorite book in the series, solely because I'm a sucker for spooks. If you're into a slightly haunting but still fun and (mostly) kid-friendly mystery, then I definitely recommend this one. As well as the whole series in itself. It's a revamp of the classic Nancy Drew series, through a modern lens that isn't actually cringey! It's a miracle. Sitting at a whopping 24 books, you won't be running out of content any time soon. I highly recommend this series, even if it might seem a little childish to my peers. I hold a great nostalgia for these books in my heart, and it only seems fair to try to spread it to as many people as possible.
The Haunting on Heliotrope Lane by Carolyn Keene is available to check out from the Mission Viejo Library. It is also available to download for free from Libby.