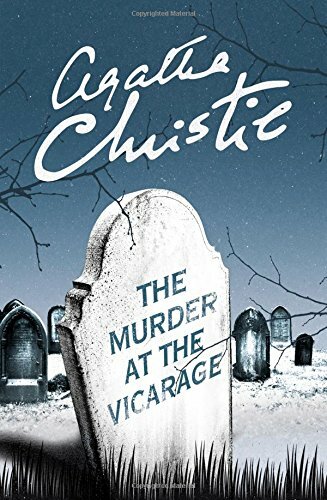 Murder at the Vicarage is Agatha Christie's first mystery novel featuring the character of Miss Marple. The story is narrated by a local reverend named Leonard Clement in the seemingly quiet village of St. Mary Mead, England. This novel involves the mysterious death of Colonel Protheroe. The Colonel was generally hated by the local residents, so it was not surprising when it was discovered that he had been shot to death. However, the murderer's identity remained a mystery. The police are baffled by the case until an elderly resident of the village decides to assist them. This unlikely detective is an elderly spinster named Jane Marple.
Miss Marple makes for an interesting character. She seems more like an observant neighborhood gossip than an actual detective. While Agatha Christie's novels featuring Hercule Poirot may be more well-known, her Miss Marple books are almost as good, in my opinion. Miss Marple's personality certainly differs from Poirot's in many ways.  Hercule Poirot has a ridiculous moustache and is amusingly pompous. He is a professional detective who has achieved widespread fame for his work. Miss Marple is just an amateur detective. She is more elderly than Poirot and seems more like a nosy neighbor who happens to solve mysteries. However, she is just about as shrewd and intelligent as Poirot.
This book was certainly baffling and had me guessing at every turn. Various suspects confessed to the murder at different points in the novel, making it very difficult to guess the murderer. I enjoyed the relatively quaint setting of the story. Everything takes place in a small village, so the characters are well developed by the end of the story. Miss Marple turns out to be a very charming character, and she is surprisingly astute and perceptive. I would highly recommend this novel, as well as the other books by Agatha Christie featuring Miss Marple.
Murder at the Vicarage by Agatha Christie is available to download for free from Libby.