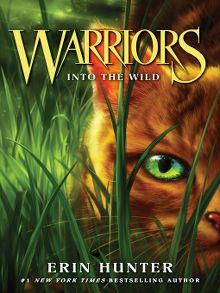 This is the first book to the Warrior Cats series, and I have to say that I really enjoyed it. It's about a bunch of wild cats living in the forest that live in packs called Clans, and the battles, and the cats growing up and becoming warriors. The books are really action-packed and fun to read! And after reading this story, I just couldn't look at house cats the same way ever again!
Anyways, to begin with, there are four Clans in the forest: ThunderClan, ShadowClan, RiverClan, and WindClan. There is also a StarClan, which is like the cats' heaven. Everything is peaceful, until a mysterious omen arrives:
"Fire Alone Can Save Our Clan…"
For generations, four Clans of wild cats have shared the forest according to the laws laid down by their warrior ancestors. But the ThunderClan cats are in grave danger, and the sinister ShadowClan grows stronger every day. Noble warriors are dying – and some deaths are more mysterious than others.
And in the midst of this turmoil appears just an ordinary house cat named Rusty… who may turn out to be the bravest warrior of them all.
-Katharine L.
Into the Wild by Erin Hunter is available for checkout from the Mission Viejo Library. It can also be downloaded for free from Overdrive.