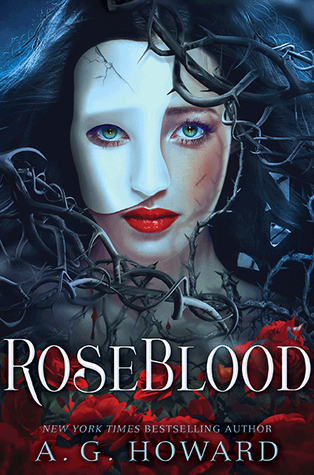 From this beloved author we were told how Lewis Carroll wrote the stories wrong: how Wonderland is actually not a child's world, but one of twisted madness, Tim Burton like worlds, and hot guys who wear hats and vine like tattoos. Now, get to learn that we also have a beloved opera that has been written wrong.
Enter into a world based in France, where the school Rune Germain has transferred to has its own Phantom of the Opera. Rune's life is complicated: she was almost killed by her grandma, nearly killed a boy by kissing him, and on top of all that, her voice was cursed, causing her to let out faint sounds every time she sings. Meanwhile, young Thorn lives with a man named Erik, who is the phantom of the opera and has mask covering the burnt portion of his face. Thorn must do what Erik says, even if it is wrong, for reasons kept secret. What happens when Rune and Thorn's destined fates cross? A lot basically, and not all of it good.
I love A. G. Howard as an author, especially with her Splintered series. That was why, since I saw the book at the library, I immediately picked it up and started to read it. The cover and colored ink on the inside looked very similar. Although not the same madness like tone that the Splintered series was written in, the mystical feel suits a archaic opera like time. The plot twist is also very interesting.
However, the book disappointed me in various ways too. For example, A. G. Howard, like always, expects you to remember the mysterious boy that appears in the girl's dreams, the one that only appeared for one sec in the beginning and was not memorable enough. Additionally, compared to the Splintered series, she tells the story really fast. This is also more of a preference, but I didn't like the way she told the story. She told the story through both Rune and Thorn's point of view, and while both are important to the story, I feel as though it muddles things up. However, that is more personal. All in all, it was still a very great story and I would recommend it to everyone who wants to read it cause of the author, supernatural elements, or the like.
-Megan V, 12th Grade
Roseblood by A. G. Howard is available for checkout from the Mission Viejo Library.