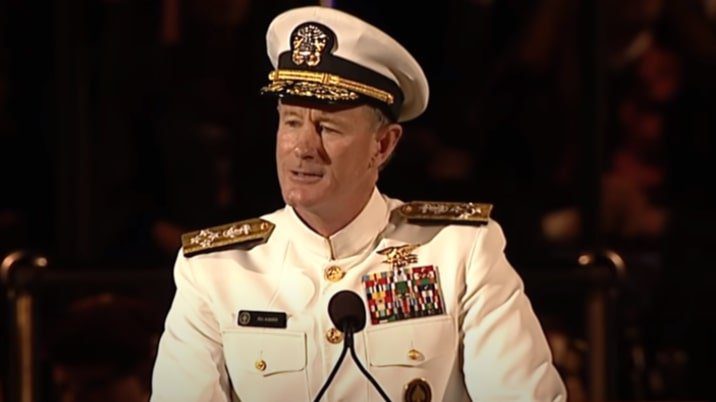 "If you want to change the world, start off by making your bed."
These are the well-known words of none other than retired United States Navy Admiral William H. McRaven, spoken during his commencement speech to the graduating class from the University of Texas at Austin. McRaven spoke of the ten lessons he learned from Navy SEAL training, ten lessons needed if one wants to change one's life, or even the world. These simple lessons at the basis of his remarks dealt with overcoming the trials of SEAL training, but those ten lessons are equally important in dealing with the challenges of life, no matter who you are.
Admiral McRaven was not at all expecting much of a welcoming audience among college students. But to his surprise, they embraced his inspiring speech. McRaven's wise words seemed to have a universal appeal, and many people wanted to know more about how the ten lessons shaped his life.
As a result, McRaven decided to write a small book, called Make Your Bed. There are ten chapters, each giving a little more context to the individual lessons. The book is filled with anecdotes about the origin of the lessons and the people who inspired McRaven most. These are the ten lessons:
If you want to change the world…
Start your day with a task completed. "Start off by making your bed."
You can't go it alone. "Find someone to help you paddle."
Only the size of your heart matters. "Measure a person by the size of their heart."
Life's not fair—drive on! "Get over being a sugar cookie and keep moving forward."
Failure can make you stronger. "Don't be afraid of the Circus."
You must dare greatly. "Slide down the obstacle headfirst."
Stand up to the bullies. "Don't back down from the sharks."
Rise to the occasion. "Be your very best in the darkest moments."
Give people hope. "Start singing when you're up to your neck in mud."
Never, ever quit! "Don't ever, ever ring the bell."
Now, these lessons may seem like the boring stuff you were told constantly as a kid, but Admiral McRaven's book will go further than that. Reading through his heartwarming and heartbreaking stories, I took a different perspective to these lessons. McRaven's powerful words touched me, and these days I'm trying my absolute best to live by these lessons so I can change my life—and maybe the world—for the better. Read Make Your Bed, and it will change you as well.
But that's not it! If you don't have time to read this life-changer, please watch a 15-minute YouTube edit of Admiral McRaven's unforgettable speech by MotivationHub instead. McRaven's speech is intercut with footage of SEAL training and powerful music, and it will leave you speechless and determined to change your life.
After watching the video, if you're interested in learning more, check out Make Your Bed by Admiral McRaven! The simplicity of the ten lessons he teaches is astounding, but if you live by these morals, you will change your life—and maybe even the world!—for the better.
Don't miss out on this chance to change! Admiral William H. McRaven's wise words just can't be passed over—try Make Your Bed or even his famous commencement speech! I promise you, you will close the book (or the video) with a newfound mindset of determination.
"Start each day with a task completed. Find someone to help you through life. Respect everyone. Know that life is not fair and that you will fail often, but if you take some risks, step up when the times are toughest, face down the bullies, lift up the downtrodden, and never, ever give up… if you do these things, then the next generation and the generations that follow will live in a world far better than the one we have today. And what started here will indeed have changed the world, for the better."

-Admiral William H. McRaven
-Lam T.
Make Your Bed by William H. McRaven is available for checkout from the Mission Viejo Library. It can also be downloaded for free from Overdrive.