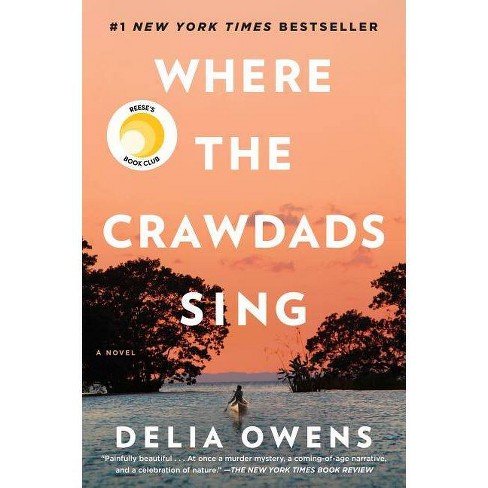 From the very first pages of Where the Crawdads Sing, the reader cannot help but be transported to the coastal North Carolina Marsh.  Delia Owens expertly weaves a haunting coming of age tale with a murder mystery in which the natural landscape is a significant supporting character.  The story is about Kya's journey from a young, abandoned child to an independent and accomplished woman.  She is the heroine but with a dark secret.  She grows up as the disdained "Marsh Girl" living on the outskirts of 1952 Barkley Cove, North Carolina.  However, it is the marsh and swamp surrounding her that provides a safe haven and saves her from her mother's abandonment, her father's alcoholic abusive behavior, and the complete loss of all family and sense of security at the tender age of seven.   One might expect a child to perish in the circumstances in which Kya is left but she thrives.  Kya is a keen observer and educates herself on the sights, smells, and sounds of the marsh, swamp, and inland waterways of the Carolina Coast.  The marsh raises her and is her family. 
After her mother and older siblings have all left, Kya is forced to learn to navigate the nuances of caring for herself and her father who is prone to drunken fits of rage and abuse.   She is able to carefully nurture this relationship and even learn a few things from her exceedingly flawed and damaged Pa.  He teaches her to fish which provides a source for food and to navigate the inland waterways by boat.  Just when it seems that there might be a chance for this father-daughter pair, it all dissolves when a letter arrives from Kya's estranged mother.  Her Pa descends into a drunken bender and ultimately leaves for good.  Kya is left all alone.
Not only is Kya abandoned by her family but she is rejected by the townspeople of Barclay Cove.  They see her as the dirty, uneducated marsh girl, essentially trash that pollutes their segregated town.  Few reach out to help her but those that do are the true heroes of this story.  Their once tentative relationships grow and encircle Kya's otherwise lonely existence with a make-shift family of support.  Her survival and some of her successes rest on their unconditional friendships, making the prejudices of the rest of the town all the more glaring.   Kya grows and evolves into a renowned biologist and protector of the marshland, capable of providing for herself while giving back to those that helped her along the way.
For others in town, Kya is a mysterious and alluring curiosity.  Chase Andrews, the handsome and rich town football star, attempts to manipulate and take advantage of Kya's vulnerability.  He tricks Kya into trusting him and, though he is intensely attracted to Kya, he cannot turn away from societal expectations to honor his relationship with her.  Instead, Chase seeks to control Kya and keep her for himself in the shadows.  Chase underestimates Kya's fortitude and her knowledge of marsh survival.  In the hurt and pain that he inflicts, she returns to the depths of the marsh where she finds comfort and answers to the harsh truths of her life.
As of late January 2021, Where the Crawdads Sing has spent 124 weeks on the bestsellers list, a stunning achievement for Delia Owens' first novel.  Owens is an accomplished and award-winning nature writer with a BS in Zoology from the University of Georgia and a Ph.D. in Animal Behavior from the University of California at Davis.  On Owens' personal web page, she describes that her mother encouraged her to be an "outside girl" and to "Go way out yonder where the crawdads sing." Delia Owens earned awards for exceptional creative writing even in her childhood.  However, as a college student, she decided to pursue a career in science.  She spent decades in Africa studying the social behavior of mammals, especially female mammals, including lions, hyenas, and elephants.  She returned to creative writing in retirement.   Where the Crawdads Sing is a perfect marrying of Owens' passions, nature, and fictional writing.  Delia Owens has truly led an extraordinary life.  Her experiences, as a keen observer of life science, translate readily in this captivating story that explores the behavioral impact on a young woman forced to live alone in the marsh without family.  Kya's story is one of survival and the marsh, in all its natural detail, is her ally.  At its conclusion, you may put the book down and feel compelled to "go out yonder where the crawdads sing."
-Johnson D.