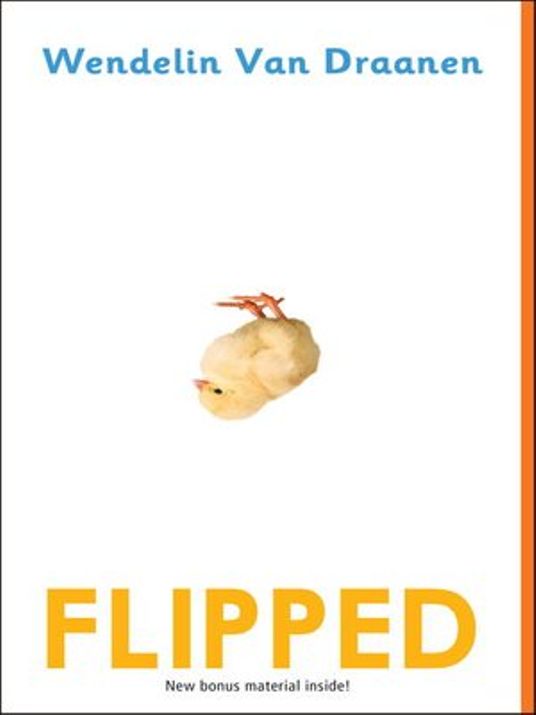 Flipped is a novel by Wendelin Van Draanen about two neighbors whose relationship starts to "flip". I love how the novel is told from different points of view between the two main characters throughout the book and how the layout and the plot of the story ties in with the title.
At the beginning of the story, young Juli Baker introduces herself to Bryce Loski, a boy her age who had just moved in across the street. She is mesmerized by Bryce and provides help to move the boxes from the moving truck, but Bryce feels the complete opposite and he finds her annoying. Throughout the years, Juli is head over heels for Bryce and does things that seem to "annoy" Bryce while Bryce seems to dislike Juli and goes out of his way to avoid her. It can be seen that Juli's feelings for Bryce do not seem to be reciprocated.
However, as they grow older and start to enter 8th grade, the book gets more interesting as their relationship starts to flip around and Juli starts to find herself falling out of love with Bryce. On the other hand, Bryce starts to acknowledge Juli and slowly develops feelings toward her. Nevertheless, Juli starts avoiding Bryce and he feels he wants to win her back. Then, Bryce realizes he must apologize to Juli for all his wrongdoings towards her. At the end of the story, Juli watches as Bryce digs up a hole in her front yard and sees that he is attempting to plant a sycamore tree, a tree that Juli cherishes. She goes over to him, helps him, and decides to give him another chance.
Flipped by Wendelin Van Draanen is available to check out from the Mission Viejo Library. It is also available to download for free from Libby.