Wow. I don't think anybody expected the Dallas Mavericks to be in this position heading into the playoffs. Just about two months ago, the Mavericks had a 96% chance of making the playoffs following the addition of star guard Kyrie Irving. Surprisingly, things went downhill from there. Before the trade, the Mavs were slightly above .500 (a 50% winning percentage) and were consistently in between the 4-6 seeds in a tightly packed Western Conference. They were very mediocre and their superstar player, Luka Doncic, was having to play at an extremely high level every game for the Mavericks to even have a shot at winning. It was obvious that a change was needed in order for them to become contenders, and many thought the Kyrie Irving trade was just that. However, those people could not have been more wrong.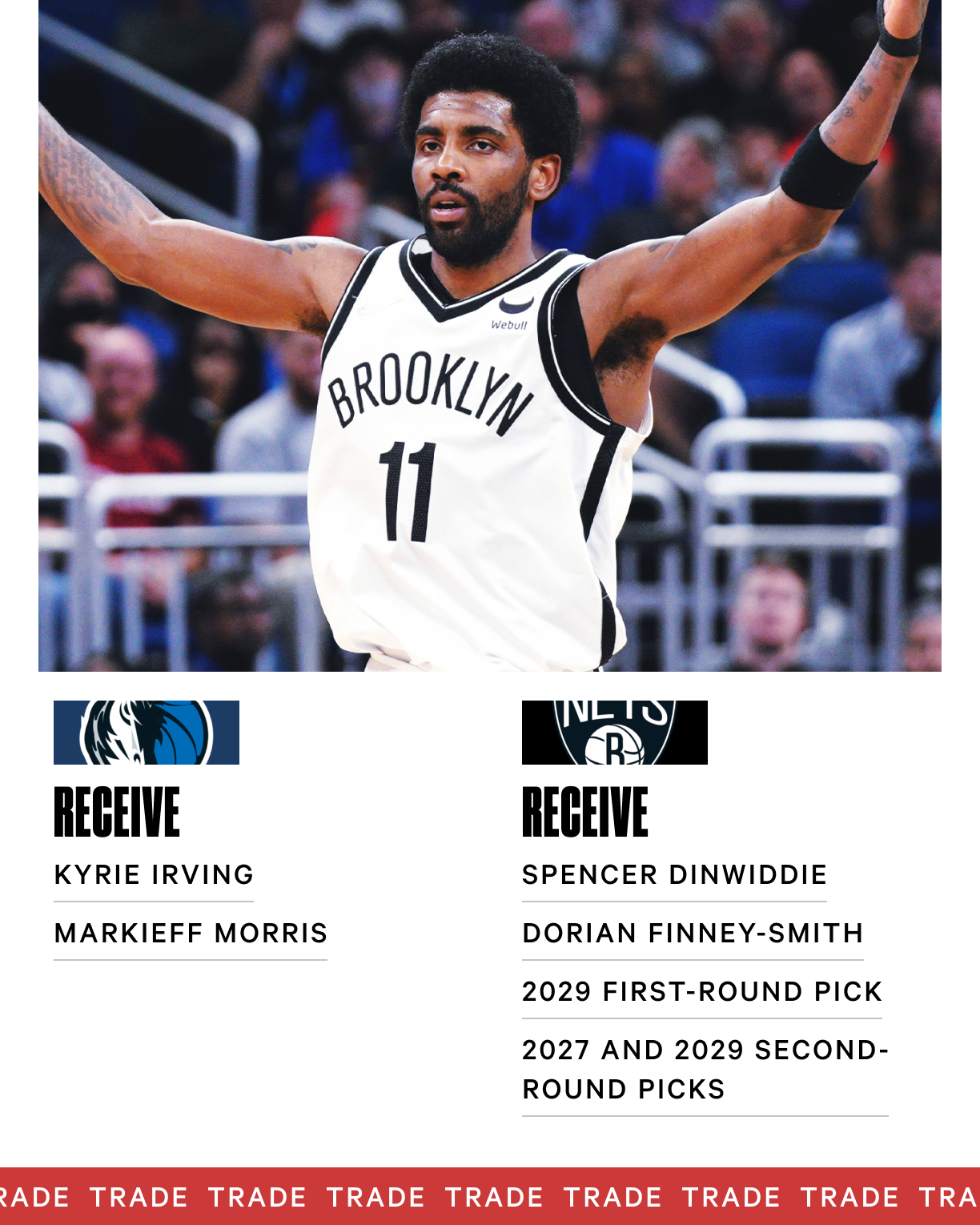 To start off, it is important to look at what the Mavericks gave up in order to acquire Irving. As shown in the image, the Mavericks gave up Spencer Dinwiddie, Dorian Finney-Smith, a 2029 first round pick, and two second round picks. In return, they got Kyrie Irving and Markieff Morris. At first glance, it seemed like the Mavs easily won this trade. However, if you look at it more in depth, Dallas lost a lot of their defense. Dorian Finney-Smith was the best defender on the team and Dinwiddie was decent on the defensive side of the ball. The problem with this trade was that the team lost their identity, which is not a good spot for any franchise to be in. In the 2021-2022 season, the Mavericks were known as a defensive team and arguably had a top 5 defense. This was the main reason they were able to reach the Western Conference Finals, as were consistently holding teams to under 100 points a game, which is a recipe for success. There is a saying that "defense wins championships", and although the Mavericks had an elite offense with Kyrie and Luka paired together, their defense was atrocious.
Coaching is also very important in the success of any team, regardless of the sport. The Mavericks' head coach, Jason Kidd, was considered a solid coach in the NBA. This season, however, there were some glaring issues with his gameplans. After letting Jalen Brunson leave in free agency, the Mavs went ahead and traded for Christian Wood in hopes for him to be the solid big man that they desperately needed. In the first half of the season, Wood put up solid numbers and was helping the Mavs win games alongside Doncic. However, after the Kyrie Irving trade, his minutes plummeted, therefore causing his stats to also drop. Kidd chose to start Dwight Powell for majority of the games. Many Mavericks fans, including me, were perplexed by this move. For some reason, Kidd continued to allow Powell to get starter-type minutes, even though he was playing awful. Fans were furious with the coach and were begging for him to get fired. Although this will likely not happen this offseason, it is something for owner Mark Cuban to think about.
Ultimately, the Dallas Mavericks' downfall this season was mainly caused by their defensive woes and a few coaching issues. There are a few ways to fix these problems in the offseason, but there is also the risk of Kyrie Irving leaving in free agency since he is only on a one year contract. If he does leave and the Mavericks get nothing in return for a half-season rental of Irving, they will find themselves in a deep hole.