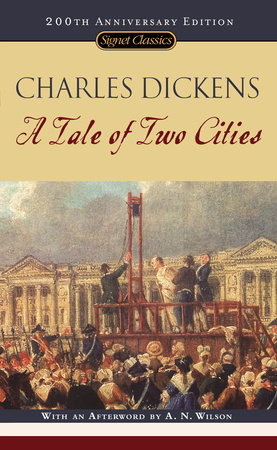 A Tale of Two Cities is a historical novel written by Charles Dickens. The story happened in England and France since 1775 which occurs during a period of social unrest and turbulence.
The forces that lead to the French revolution, clash with a group of people in England and lead to their fates irreversibly intertwined. The novel focuses on the resurrection through the setting of the French revolution. Thereinto, "Recalled to life" , the most significant part in each book, presents a prominent tale of resurrection. In A Tale of Two Cities, Dickens examines the theme of resurrection through the character of Dr. Alexandre Manette and the event of rescuing Charles Darnay.
Dickens elaborates resurrection with the character of Dr. Manette, who stayed in Bastille and suffered the mental pressure for 18 years. In Chapter 2 Book 1 of A Tale of Two Cities, Mr. Lorry gives a message to Jerry which Jerry will transfer to his bank. "Jarvis Lorry states, Jerry, say that my answer was, 'RECALLED TO LIFE'"(Dickens 14). Jerry Cruncher, the messenger, gets confused about this blazing strange answer. Jarvis Lorry's answer reveals a surprising piece of information regarding Dr. Manette. In fact, Dr. Manette reappears in public which nobody knows whether he lived or died in the past because of such a long time. His eighteen-year imprisonment has constituted a sorts of death which makes "Recalled to life" indicates that Mr. Lorry brings him back to life from the "death".
-Xiaoyu Z.
A Tale of Two Cities by Charles Dickens is available for checkout from the Mission Viejo Library.