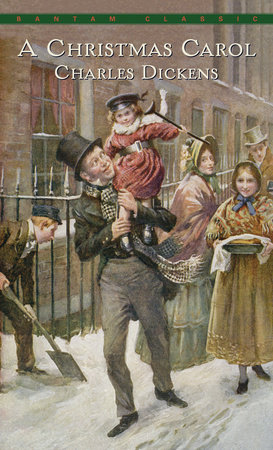 The novel is mainly about a miser. A miser had saved a lot of money, yet he was unwilling to add a lump of coal to the clerk's fire. His nephew kindly invited him to the Christmas Eve party, but he thought his nephew was just trying to take advantage of him by refusing. Activists asked him to give a little Christmas food to the poor, but he was mercilessly rebuffed. He went home at night, and in the darkness he saw a face. Was it really a ghost? Or is it his vision? However, the appearance of the ghost has changed him completely.
Scrooge is visited on Christmas Eve by three Christmas spirits: Christmas Past, Present and Yet to Come. Christmas Past shows him how his sister cared for him in his lonely childhood, and how, as an apprentice, his kind boss, Fitzwig, danced with the crowd and entertained his staff on Christmas Eve. His heart began to soften, and he regretted his treatment of his employees and his transformation from a poor but happy young man to a rich but friendless boss. Present took him to a Christmas party at the home of one of his subordinates. It was a little clerk on a poor salary. There were no Christmas presents, no turkeys, but everyone had a happy smile on their faces. Yet to Come showed him the loneliness of being in bed with no family or friends to see him at Christmas when he was old. He began to rethink the meaning of life, and found that giving was happier than receiving. All this gradually awakened the other side of his humanity — compassion, kindness, love and joy. In an instant, his inherent selfishness and coldness collapsed and disappeared, and he became a good Samaritan.
So on Christmas morning, the morning after the ghost's visit, Bob, an employee, arrives late for work, expecting Scrooge to be angry. But instead scrooge said to him, "Merry Christmas to you, my good fellow! I'll give you a raise, and I'll do my best to help your poor family. Get the fire lit quickly and buy a coal basket." Then he bought a very big Turkey and had it sent to Bob's family. Then, on his first visit to his nephew, he greeted people on the street with "Merry Christmas" and they smiled kindly at him. For the first time in his life Scrooge felt truly happy. His heart was laughing, and he felt the real joy of life in his charity.