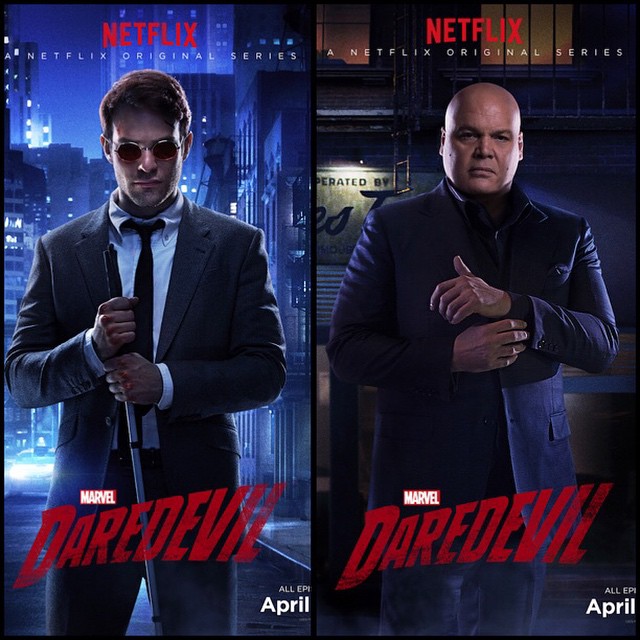 I first saw the show last summer on Netflix before it moved to Disney+ this year. It has very good storylines and introduces audiences to the Marvel comic book character Daredevil and many of his allies and rivals. Played by Charlie Cox, Matt Murdock plays the superhero in a thrilling yet extremely violent TV series. Murdock is revealed to have a day job as a lawyer, working alongside his work partners Foggy Nelson (Elden Henson) and Karen Page (Deborah Ann Woll) in the firm Nelson and Murdock. Murdock is also revealed to be blind after an incident occurred where chemicals flew into his eyes as a child, blinding him for life.
The firm only consists of the three members, however they take cases in exchange for payments in food and financial earnings in court. This ends up coming into conflict for Murdock, as he is forced to balance his life as a lawyer and a street vigilante similar to Batman who works outside of the law to protect civilians from robbers and consequences of corruption. His biggest threat is revealed to be a man named Wilson Fisk (Vincent D'Onofrio), a large and imposing man who aims to climb the ranks of New York and gain power and control for his own personal gain. Fisk's aims often come at the expense of others, leaving people vulnerable and forced against their will to assist and take part in Fisk's plans.
What I found most interesting about the film is the contrast yet similarity between Daredevil and Fisk. Both want to enhance New York in their own way and both use methods that conflict with the law to reach that end goal. Their quest often raises many questions towards morality. Also, both characters deal with mental trauma. Fisk ends up killing his father to protect his mother and even though his mother accepts him, he still deals with the trauma throughout the story. Similarly, Matt faced child abandonment as a child, with his mother leaving early in his life and his father getting murdered after refusing to throw a boxing fight for the purpose of making Matt proud. Even though both Daredevil and Fisk are different in the eyes of the audience, the similarities between the two are apparent with analysis.
However, what separates the two is their end goals. Although Fisk wants to improve New York, he aims to do so by destroying the city and "rebuilding", which puts lives at risk and comes at a high price for many. Fisk reveals that he only cares about his power and role in the city, which contradicts his deception to the rest of the citizens of his good will through paid press and newspapers. On the other hand, Daredevil utilizes brutal methods, but refuses to take a life due to his devotion to Catholicism and only does so to help others at risk, such as hostages or other defenseless people.
Overall, this show was a very interesting watch and I believe that it challenges the true association of good and evil. Even though many believe that the two are about as separate as night and day, this show goes above and beyond to challenge that belief through Murdock, Fisk, and even later characters such as Frank Castle (Jon Bernthal) aka The Punisher, and Benjamin Poindexter (Wilson Bethel). I strongly recommend anyone with Disney+ to give this show a watch.