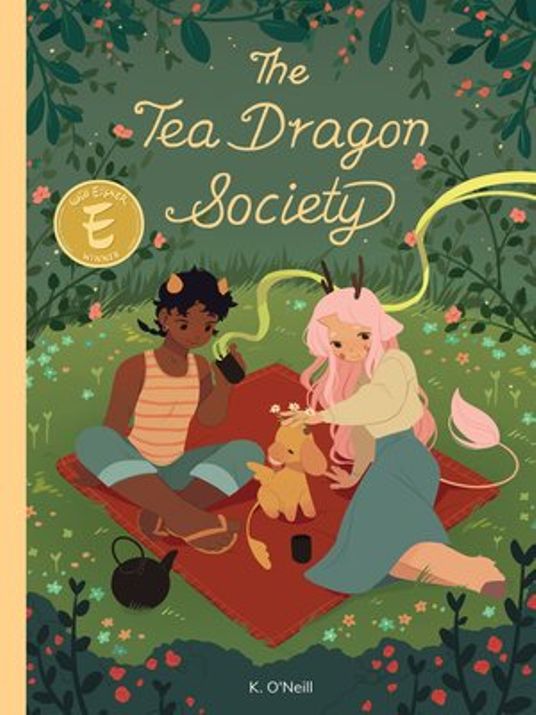 The Tea Dragon Society series is a series of graphic novels written by Kay O'Neill. The three-part story is set in a fantasy world in which dragons grow leaves and flowers on their horns, that are able to be brewed into tea. Whoever may drink the tea is able to see the memories of the dragon's owner.
The first book, The Tea Dragon Society, follows young Greta, a blacksmith apprentice, as she discovers the art of caring for a Tea Dragon after finding one lost in the marketplace and returning it to its owner. She meets Hesekiel and Erik, the owners of the tea shop that she returns the dragon to. There, she befriends Minette, a shy girl with no memories of her past. We learn that she used to be a prophetess, and in an attempt to see every future possible, lost all of her memories. The book is short, with beautiful calming art and a nice cozy story.
The second book, titles The Tea Dragon Festival, takes a turn to a new character named Rinn, when they find a real dragon in the forest outside of town. The dragon's name is Aedhan, and it is revealed that he was assigned to look after the village, but fell asleep in the woods eighty years ago. It follows Rinn as they help Aedhan adjust to a new life, solve the mystery of his long slumber, and accept that he can not get back the time he lost.
The last book of the series is titled The Tea Dragon Tapestry, and once again follows Greta and Minette as they face challenges in their lives. Greta is tasked with creating something beautiful to impress a skilled blacksmith, and become their apprentice. All the while, she is learning how to care for a grieving tea dragon after it fell into her care when it's previous owner died. Minette receives a mysterious gift from the place she once lived, which throws her whole life into questions and confusion. She learns over the course of the story that one must open themselves to those who care about them, to truly understand oneself.
The Tea Dragon Society by Kay O'Neill is available to check out from the Mission Viejo Library.