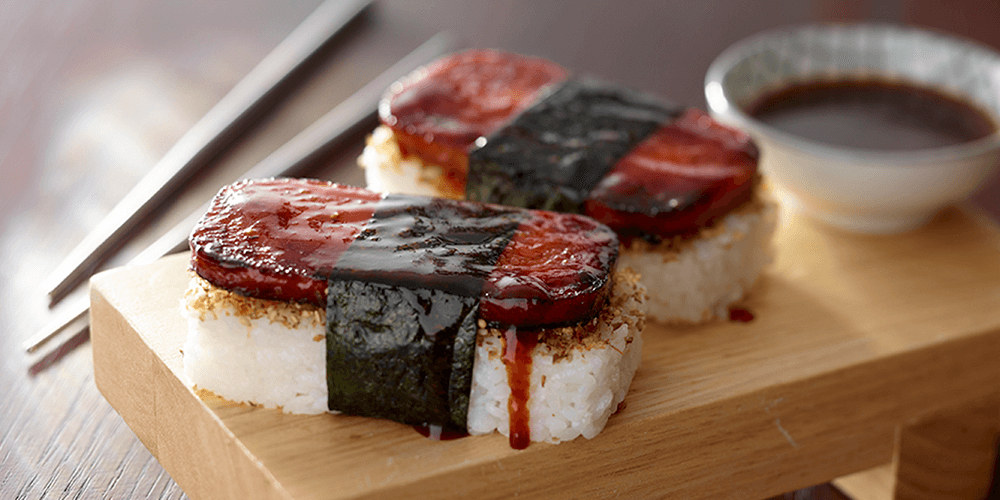 Spam musubi is one of my personal favorite snacks to make whenever I have free time. Its a very simple dish to create using only a few ingredients.
Ingredient List:
Spam Musubi
▢ 1.5 cup/310g Rice (uncooked)
▢ 1 tbsp Toasted sesame seeds
▢ 1 Nori seaweed sheet
▢ 1 can of small Spam 7oz(200g)
▢ 2 tsp vegetable oil
Spam Sauce
▢ 1 tbsp soy sauce
▢ 1 tbsp sake
▢ 1 tbsp rice vinegar
▢ 1 tbsp sugar
▢ 2 tsp Katakuriko (potato starch)
▢ 1 tbsp water
1. Cook rice by the instructions listed on your rice cooker.
2. Once the rice been cooked, sprinkle toasted sesame seeds into the rice.
3. Slice the spam ham into 6 even slices.
4. Heat a frying pan over medium heat with vegetable oil
5. Add Spam. Cook and brown each side for about 2-3 min.
6. Set aside the cooked spam slices. Then place all ingredients into the pan and reduce the heat to low.
7. Stir continuously until thick, put the Spam slices back into the frying pan and coat the spam with the sauce. Turn the heat off.
8. Next is to assemble the Spam. I like to use a specific mold for Spam, but if you don't have one there is a very easy alternative. Line a washed spam tin with cling wrap and put 1/6 of the cooked rice into the tin.
9. Press the rice down with your hand. Add a piece of spam on top and press.
10. Remove the spam and rice, place the nori strip over on the centre of the spam and wrap over the musubi.
Enjoy!
-Harrison Schreiman