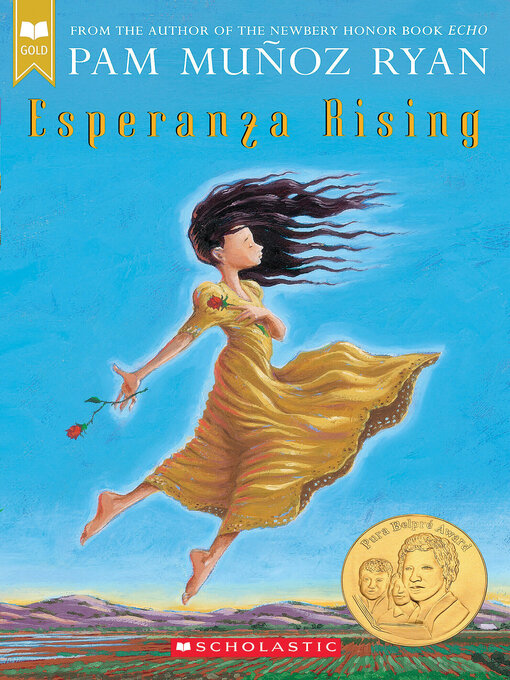 Sabes cuándo un libro está escrito originalmente en español, y "Esperanza renace" es uno de los mejores. "Esperanza renace" fue escrito por Pam Muñoz Ryan y está en clases de inmersión de quinto grado alrededor del mundo. "Esperanza renace" se enfoca sobre una niña de 13 años y su viaje a los Estados Unidos y a una nueva vida. En el comienzo del cuento, Esperanza vive con su mamá, su papá y su abuelita en El Rancho de las Rosas. Tiene sirvientes magníficos y campesinos lindos, incluyendo sus amigos Hortensia, Alfonso y Miguel. Su vida es perfecta. Desafortunadamente, todas las cosas buenas van a llegar a su fin. Como un tiburón, bandidos mataron a su papá y su vida quebró.
Sus tíos tienen derechos a su propiedad y cuando su mamá dice que no se va a casar con su tío Luis, él quema su casa y las mujeres no tienen un hogar. Con la ayuda de Miguel, Hortensia y Alfonso, Esperanza y su mamá viajan a California para trabajar. "Esperanza renace" es un libro escrito con amor y belleza, quisiera nunca parar de leerlo. Este libro es perfecto como una rosa, brillante, muy bonito y con mucho amor.
Esperanza renace (Esperanza Rising) by Pam Muñoz Ryan is available to checkout from the Mission Viejo Library. It is also available to download for free from Libby. English versions are available from the Mission Viejo Library or Libby.