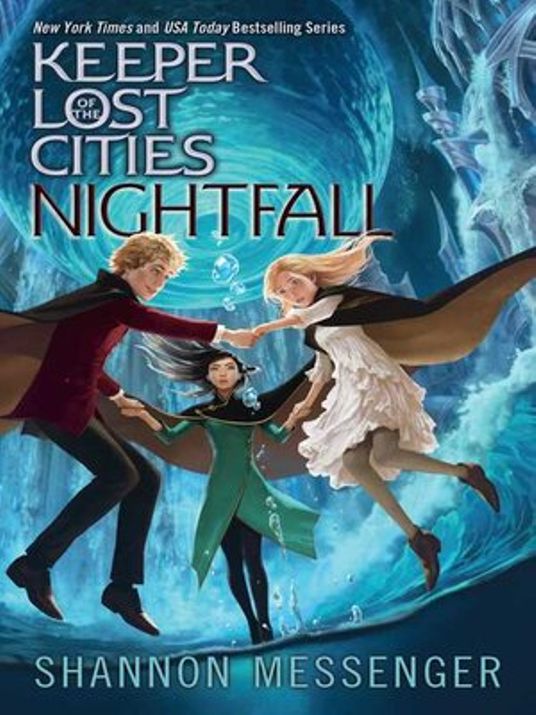 Nightfall is the sixth book in the Keeper of the Lost Cites series (which is currently 8.5 books long), and the events come as a definite surprise to anyone who has read the other five books before it.
In this book, the main character of the series, a powerful young elf named Sophie Foster, has to rescue her human parents from a Neverseen hideout called Nightfall. (The Neverseen are a deadly rebel group that formed in the Lost Cities, and they always seem to be out to get Sophie and her friends.) But Sophie knows that the Neverseen might be using her parents as a diversion to distract her from the larger issues at hand, so, no matter how painful it is, Sophie is forced to look at the bigger picture and accept that the threat looming over her human parents might not be the problem she needs to focus on. She helps her friend, Keefe Sencen, with the issues he has with his mother, Lady Gisela, (who also happens to be a leader of the Neverseen) and attempts to figure out the identity of the prisoner who escaped from the Lumenaria dungeon in the previous installment of the series. But all of these issues seem to come together in the end of the book, when Sophie and her friends (Tam and Linh Song, Biana and Fitz Vacker, Keefe Sencen, and Dex Dizznee) and her foster father, Grady Ruewen, enter Nightfall. There, they encounter some members of the Neverseen and discover who their new ally is–the former prisoner of Lumenaria.
While all of this was going on, they also had to deal with another enemy, one whose alliance with the Neverseen hit extremely close to home. Alvar Vacker, the older brother of Fitz and Biana, was found abandoned by the Neverseen in one of their old hideouts, bleeding to death. They had discovered that Alvar was a member of the Neverseen in the earlier books, but they'd never have guessed that the group would leave him for dead. He doesn't give any information in his interrogations except for one, crucial detail, which readers will find out in the beginning of Flashback.
The reason why I love this novel is because of all the plot twists and the fact that the characters have realistic personalities. Their problems kept me rooting for them the whole time the book was in my hands, and the storyline stuck with me for a long while after I'd finished. This book (and the series it belongs to) is a magical read, and I would highly recommend it to anyone who loves the fantasy genre.
Nighfall by Shannon Messenger is available to checkout from the Mission Viejo Library. It is also available to download for free from Libby.