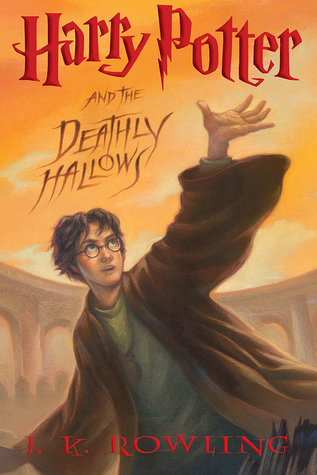 Harry Potter and the Deathly Hallows is the last installment of the Harry Potter series. J. K. Rowling  did an amazing job with this book. The first time I read this book, I couldn't put it down and every time I read this book, it's just as good as it was the first time.
In this final book, the wizarding society has finally been taken over by Death Eaters and Voldemort's search to find and kill Harry Potter is at its prime. Fear is everywhere. Any witch or wizard could be killed or sent to Azkaban for doing nothing while Harry Potter and his friends Ron and Hermione are on the run.
Harry is trying to complete the task Dumbledore gave him before he died and end Voldemort's reign forever. But trying to create a plan to do this isn't easy, and Harry just wants people to stop dying for him.  And, finally, Rowling gives us explanations for the unanswered questions and cliffhangers she's created throughout the series.
Out of the Harry Potter books, this is the only book that does not mainly take place is Hogwarts. So it is cool to see other parts of the world J.K. Rowling has created. However, a good amount of the book is just Harry, Ron and Hermione camping out in the woods.
It is also the darkest out of the Harry Potter books but, it doesn't make it any less good. I admit this isn't my favorite Harry Potter book because personally, I feel like the trio spent too much time in the woods where we instead could have been learning more what is going on and, some say this book is just to long to hold their attention the entire time. But, despite this, I would still wholeheartedly say that this book is definitely worth reading.
-Ava G.
Harry Potter and the Deathly Hallows by J.K Rowling is available for checkout from the Mission Viejo Library.