Both Halloween and Christmas have come and gone, but I'm sure at least a couple of you have either seen the film below or at least have a vague memory of what transpired: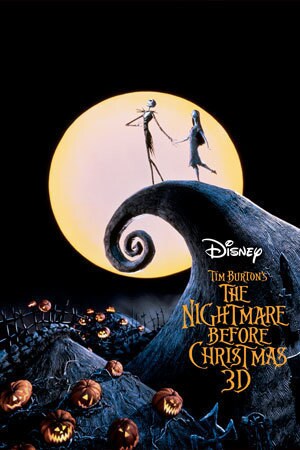 However, this is not a review of a cross-seasonal classic with much more dark elements to it than you would expect for a children's film. Instead, this is about a more recent film that was released late 2014, yet didn't enjoy the same level of success as some of some of Burton's earlier films (Batman, Charlie and the Chocolate Factory, Corpse Bride, etc.). I believe that it's still worth a watch.
Big Eyes is a biographical film based on the life and career of Margaret Keane, an artist who became wildly successful in the 1950's and 1960's. After a previous marriage that she left together with her daughter, she met the charming Walter Keane, whom she thought was also an artist. (He wasn't) She quickly fell in love with Walter after he promised that they would live a comfortable life, and married him.
Margaret was struggling to pay the bills, raise her daughter well, and keep her apartment in San Francisco. It didn't help that she didn't have much qualifications, due to majoring in an artistic field in college. She worked at a children's crib manufacturer painting pictures on cribs.
In her free time, however, Margaret enjoyed painting portraits and selling them for money along the San Franciscan beach. Her unique style of art often featured melancholic-looking girls with oversized eyes. which eventually caught the eyes of the wealthy of San Francisco, and almost overnight her paintings and reproductions were being sold everywhere. But there was a catch- people didn't know she was the painter.
Margaret's husband, Walter Keane, was not a great painter himself, but was an extremely persuasive and cunning salesman. Margaret was the original painter, but she always signed them "Keane". Walter was the one who first went out and tried to sell Margaret's paintings, which he recognized had true potential. Since the 50's and 60's was still a time where people subconsciously perceived women as less creative/intelligent/etc. when compared to men, the first buyers assumed he was the painter. Walter didn't correct them because he feared that people would lose interest in the paintings if they knew a woman had painted them, and before he knew it, he was raking in hundreds, if not thousands of dollars. 
For the sake of keeping their reputation and the money, the two reach an agreement: Margaret would spend her days in the attic painting her iconic paintings, and Walter would go out and sell them. However, as time went on, Walter became more and more abusive, shutting Margaret in the attic for most of the day and preventing Jane, their daughter, from visiting her. Walter did not take criticism well, and eventually became an arrogant, unpredictable control freak.
The stakes grow higher and Margaret becomes more and more fearful for her and Jane's safety. When Margaret uncovers a lie that Walter tried to hide in the past, she confronts Walter, several other things go wrong, and eventually Walter tries to burn down the house and Margaret and Jane flee. What happens next? You can find out for yourself by watching Big Eyes.
While I enjoyed Big Eyes, there are several things I believe could have been done better. The movie was not the best in terms of writing and didn't appeal as much to the audience as it could have. There were also several historical inconsistencies between the movie and the true story.
Overall, however, I found this movie memorable. I had never previously heard of Margaret Keane, or imagined a scandal like this could occur. The actress behind Margaret (Amy Adams) and the actor behind Walter (Christoph Waltz) both did extremely good jobs, as you can see from their Golden Globe award and nomination, respectively. The music and pacing were both very pleasant, and the sets and props do conjure up a nostalgic feeling for San Francisco in the 60's.
But what really stood out to me about this film, and in fact the reason why I even knew it existed in the first place, was this girl right here. Delaney Raye portrayed young Jane, the daughter of Margaret, in the movie.
She doesn't have that many lines in the movie and gets much less screen time than Margaret or Walter, but young Jane is the character I remember most from the movie. Why? Because the actress portraying her was one of my classmates from elementary school. I didn't get to know her that well because I was only at that school for 3 years, but I remember everyone in the class making a big deal out of it in 6th grade (Back in that school district, you could've gone to middle school in 6th grade or chosen to stay. Most people stayed) and that was when I first heard about this film.
Up until that point I never realized I could have been going to school with someone that was in a Hollywood movie directed by a famous director, but when I found out it was true I suddenly became interested in seeing Big Eyes. However, I forgot about it for a couple of years after I moved away (to here), and then it popped into my memory out of nowhere and I decided to watch the film— and was pleasantly surprised by how compelling it was.
Overall, I'd definitely recommend this film. It may not have the elements of romance or adventure that many people seek, but if you do take the time to watch Big Eyes it might just take you by surprise.
Be warned, though, it does have swearing and some suggestions of violence.
-Michael Z.
Big Eyes is available for checkout from the Mission Viejo Library.