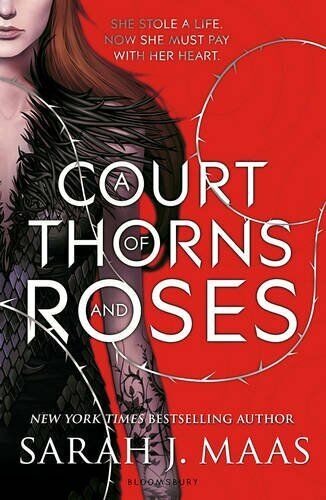 "A Court of Thorns and Roses", is a captivating book about a nineteen year old girl, named Feyre. Feyre and her family are going through tough times, and food is hard to come by. They are on the verge of hunger and are rejected by upper class society. Feyre has taken it upon herself and is now responsible for doing the hunting to provide food for her family. One day she spots a doe to hunt, but to her astonishment, the doe is attacked by a huge wolf first. She wonders if he's a Fae in wolf form, but she shoots him with an ash arrow nevertheless because she despises Fae. Soon, a large wolf faerie comes and demands retribution for the murdered wolf. Feyre agrees to pay with her life and live forever in Prythian, a land full of dangerous creatures.
I really loved this book! This book reminds me of "Beauty and the Beast", but with a nice twist to it! Moreover, I love how this book is a pretty straightforward love-story. Most books I read, it's almost always about a girl, and there are many guys she could possibly fall in love with. But not in this book! That's why I enjoy reading it so much. The mystery in this book is also amazing! Since the beginning of the book, everyone starts talking about a mysterious "she". At a certain point in the story, Feyre was swimming with Tamlin when she asked him who took Lucien's eye? Tamlin hesitantly responds and says "she" took it out. There was another time when a fairy whose wings were ripped off screams in pain while saying, "she" took them off. Like, who is this mysterious "she" everyone is talking about? You're just gonna have to keep reading to find out! Lastly, I love how there aren't many plot twists in this story. At the beginning of the story, there are many questions you are going to keep asking yourself, and as you read on, you can start making guesses on who, or what is going to happen next.
Out of 5 stars, I would give this book a 4.8. I would highly recommend this book for ages 13 +, since there are some adult content in there that might not be appropriate for younger children.
A Court of Thorns and Roses by Sarah J. Maas is available to check out from the Mission Viejo Library. It is also available to download for free from Libby.